Omega Tresor is a collection that has a very well defined aesthetic identity, but that can however be declined in models with distinct characteristics.
Omega is definitely a brand that needs no introduction, being one of the many Swiss excellences that launching this collection has confirmed once again the extraordinary technical and aesthetic care that it reserves to its creations.
Omega Tresor watches are divided into two main categories: the Tresor feminine collection, a refined "pink" line that includes models with diameters of 36 and 39 mm, and the De Ville Tresor collection, much loved by men but also available in a variant "Ladies", which offers watches with a diameter of 40 mm.
The "Pink" Omega De Ville Tresor feminine collection was created with the intention of giving continuity to the classic refinement, nevertheless foreseeing aesthetic innovations destined to reveal itself suitable for the new generations, analogous to the De Ville Tresor line, inspired by the watch of the same name depopulated in the '40s thanks to its beauty and to the fact of keeping, inside, the famous caliber of 30 mm.
Today De Ville Tresor wristwatches re-propose traditional aesthetics combining a latest generation mechanical movement.
So let's find out right away what the peculiarities of the watches in the Omega Tresor collection are.
Feminine Tresor Omega Collection 36 and 39 mm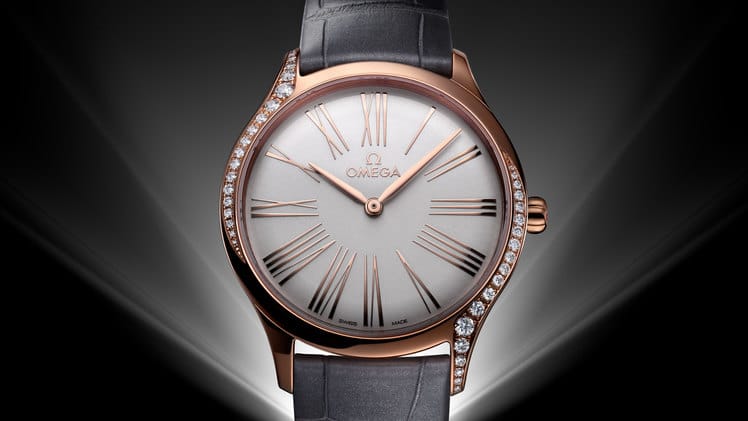 A noble and elegant design
Design is definitely a great strength of the Tresor feminine collection, whose clocks show off a sober and elegant aesthetic , but also visibly luxurious.
The case is thin and delicate, absolutely suitable for a women's wristwatch, and the most iconic feature of these beautiful watches certainly corresponds to the presence, on the dial, of Roman numbers made with a very striking character .
Given that, as we will see now, this watch can be configured in many different ways, the models of the Omega Tresor line are to be considered aesthetically very versatile accessories, exceptional to be put on a special occasion, so with an elegant outfit, but even in other times of the day, for example to go to work.
Lots of configuration options
Even before talking about the characteristics of the watches in the Omega Tresor collection, it is useful to underline that, as previously mentioned, it is possible to choose between many different variations.
Who wants to buy an Omega Tresor watch has different combinations available , so let's find out immediately which parameters are based on which the model can be configured.
As regards the cash desk , these watches differ not only due to the two sizes available, as already mentioned, but also to the type of construction material, ie steel and gold; this precious metal is available, in turn, in two different varieties.
There are also many types of straps : you can choose between leather and fabric straps, and recently the manufacturer has introduced new variants, such as quilted leather straps, ideal for those who want to accentuate the soul Retrò clock.
The customization options of the various references are also many in terms of colors: parallel to the tone of the case, as we have said, the colors of the Omega Tresor watches can also be varied with regard to the straps, the dial, the numbers and hands.
So, among so many options, it's really unlikely that you will not be able to find one that suits your preferences.
The main features of these Omega Tresor watches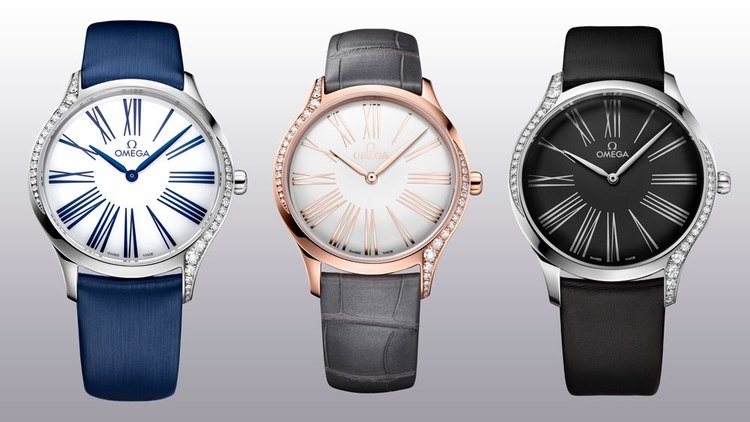 The watches in the Omega Tresor collection deserve to be considered as real jewels , and if it is stated this is not just for their aesthetic so pleasant and markedly feminine.
On all the watches in the collection, irrespective of the chosen reference, there are two fascinating diamond pavè which give the watch not only a very luxurious design, but also a feeling of movement and dynamism due to the arrangement of these gems, both to the fact that their diameter varies slightly, but well perceptible.
To complete the elegant design of this women's watch there is also a diamond set on the crown : this diamond is embellished with a glossy "HyCeram" finish in red, a detail that helps make it particularly evident.
The dial of these watches is protected by a domed sapphire crystal with anti-reflection treatment and very resistant to scratches.
Movement and impermeability
The watch from the Omega Tresor collection is a quartz movement , further enhanced by the "Long Life" function which maximizes battery life.
These watches are waterproof and ensure, in particular, a waterproofness of 3 bar, thus allowing you to go down to depth up to 30 meters.
Omega De Ville Tresor 40 mm Collection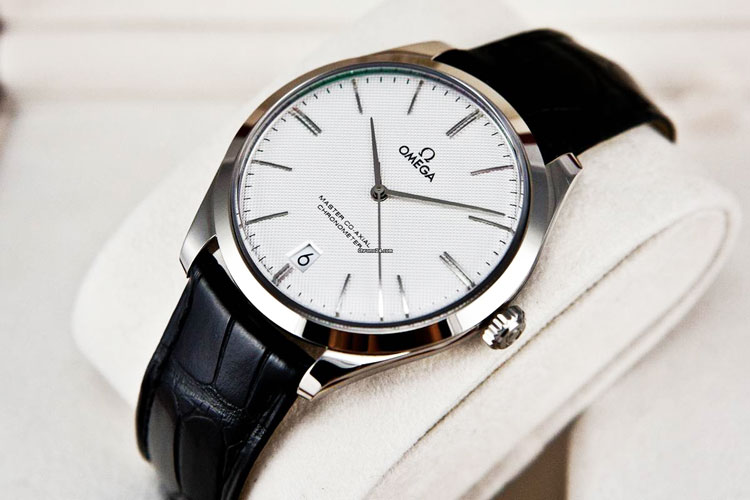 Refined design and rigorous care of every detail
The design of the watches belonging to the Omega De Ville Tresor collection is very elegant and shows great respect for Retro beauty , as mentioned above, moreover, these proposals are clearly inspired by one of the most historic models of this brand.
Clean and simple in its appearance, the De Ville Tresor watch offers a 40 mm diameter case with a rather thin set, equal to just 10.6 mm, available in either gold or opal silver; the hands and the buckle with which it is possible to close the strap, made strictly of leather with different colors, are also made of the same material.
As for the dial, the date is placed at 6 o'clock and is embellished by the inevitable logo of the manufacturer, is also protected by a scratch-resistant sapphire crystal which is a real first choice both for aesthetics and technical quality, being also enriched by a anti-reflection treatment on both sides.
Unlike the models in the Tresor feminine collection, discussed previously, those in the De Ville Tresor collection work thanks to a mechanical movement , one of the most advanced ever that the Omega brand has ever launched.
These refined watches are available in different configurations.
De Ville Tresor Ladies, feminine line embellished with diamonds
The De Ville Tresor Ladies models are available in 4 variants designed specifically for women: these women's wristwatches retain all the distinctive features of the De Ville Tresor watches, including the diameter of 40 mm, however their aesthetic is embellished with some pleasant details clearly "pink" such as the diamond-studded bezel .
These watches can be chosen with leather straps in different colors, their case is available in 18K yellow gold and 18K Sedna ™ gold, and all these models have a convex mother of pearl dial that makes their design even more luxurious.
Special limited editions for the most exclusive collectors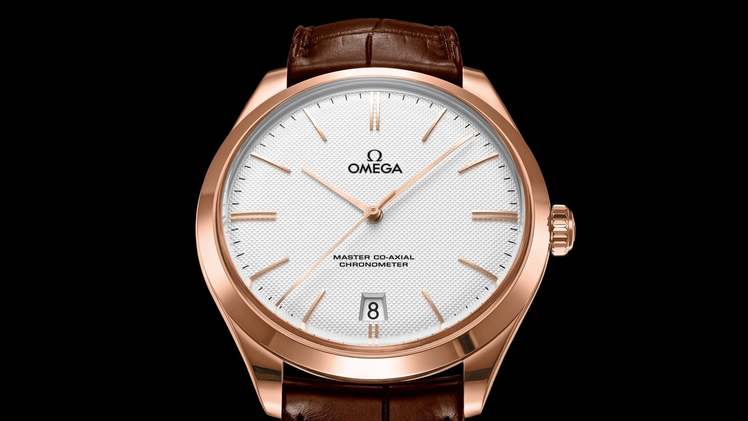 De Ville Tresor watches are also available in some exclusive limited editions , each of which is limited to only 88 copies ; since these pieces are so rare, each one is marked by the relative number engraved on the case back.
A very interesting technical feature of these models is the Master Co-Axial 8511 manual winding caliber , a real Omega "gem" that offers many special features
The boxes of these models can be chosen in 18K Sedna ™ gold, 18K yellow gold and 18K white gold, while the corresponding rounded dials are available in white, ivory, blue and opal silver enamel; some of these prestigious models are also embellished by some set diamonds.
Price Omega De Ville Tresor: commensurate with the great quality
The Omega Tresor price varies depending on the type of model that is chosen, moreover, as seen, the differences between the various options are also important from the point of construction materials.
It is however evident that the ones in this collection are top-level watches, consequently their cost is quite important and amounts to some thousands of euro ; the cost can only go up for the most exclusive variants and, obviously, for the prestigious limited editions.
Trésor Quarz models start at € 4,200 up to € 23,400.
The Trésor Omega Master Co-Axial models start at 12,700 euros up to 17.00 euros.
Omega Tresor: only positive opinions
The opinions in the Omega Tresor collection are very positive: these articles are aimed at an extremely demanding target and do not betray the extremely high expectations.
Both men and women who wear these Omega watches show that they are very appreciated both for their elegant aesthetics, for the great quality of the materials they are made of and for the various technical characteristics that distinguish them.